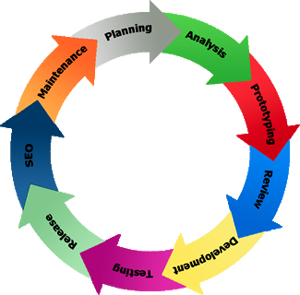 Development of your website
We have a well-defined, high quality process that has worked well for all of web site builds. It is designed to make your web building experience easy. There are five stages that we will work through together as we develop your site.
1. Requirements Stage: where you put together all of the content and our team gathers up all of your requirements.
✓ Product Research
✓ Prototyping
2. Build Stage: where your web site takes shape.
3. Review and Comment Stage: which is an opportunity for you to review your site with our team, do a live demo of your site and make minor changes.
4. QA and Testing: Our QA team does an in-depth review that tests for bugs that may surface and to make sure that your minor changes have been completed. Once this is done, your site is ready to roll out.
5. Launch Stage: where we make your site live for public viewing. Your web site vision has become a reality.
✓ Deployment
✓ Performance Tuning
✓ Support and Maintenance
✓ Customization
✓ Porting and Cross-Platform Migration
✓ Component Design and Integration
When you're ready, to give us your specific needs, please, contact us.